Forever Means – the new EP from Angel Olsen – is out April 14. You can pre order the LP here. The first single "Nothing's Free" is streaming everywhere now. In Angel's words, "'Nothing's Free' is about that point when self-denial breaks, and you notice how long you've been restraining who you are. For me, when I wrote it, I was coming to terms with my identity and sexuality. I was opening up in a new way. It felt really difficult to exclude it from Big Time, but it felt more soulful than the direction of that record, it was coming from a different place. "

Thank you for listening and for your continued support. 

Track List
1. Nothing's Free
2. Forever Means
3. Time Bandits
4. Holding On
The new version, recorded as a duet, is streaming everywhere now.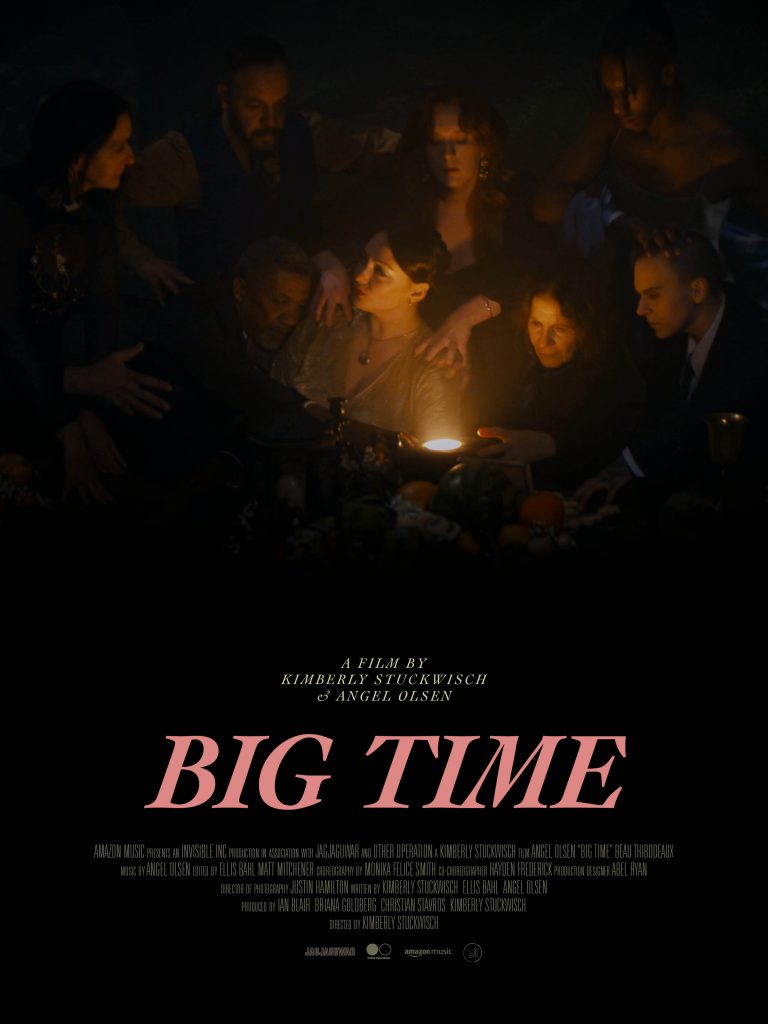 Angel Olsen and director Kimberly Stuckwisch announce a new film, also titled Big Time, presented by Amazon Music. The 28-minute film premieres June 2nd at 6:30pm PST/9:30pm EST on the Amazon Music channel on Twitch and via the Amazon Music App. The Big Time Twitch Watch Party will also feature a Q+A with both Olsen and Kimberly, followed by a concert airing from the premiere party at Brain Dead Studios in Los Angeles. Additional screenings will take place in Los Angeles and London (all details are below). All screenings will be followed by a solo performance from Olsen.
The trailer features clips of two new songs from Olsen's Big Time: "Chasing The Sun" and "Through The Fires."
"At the time of my mothers passing I kept having these super visual dreams about time travel. Later on I decided I'd name the record Big Time, not only because of the song but also as a kind of wink to time expansion and change. When I approached Kimberly Stuckwisch about making these videos, I thought it would be cool to include the storyline of one of the dreams I'd had, and really use it as a way to tell the story of the songs. She added dialogue and events, some that are based in reality and others that haven't happened, to create a story arc around my dream, to give it a thicker plot, using the music videos within and creating a larger film. I've always had a vivid imagination and it was really special to make these subconscious moments real, but it was also a really emotional and raw process and felt almost at times like a spiritual clearing, that by putting myself in the story and moving pieces of it around, I also personally had to re-examine my losses and find a new way to process the events that actually took place in my life. Though most of it is scripted, it is probably the most intimate work I have ever made and shared with the public . . . and it serves as an homage to my mother. I only wish my mom was here to listen to the record, because something tells me that she would have really liked this one." – Angel Olsen "Big Time is the story of light versus shadow told through a non-linear surrealist dreamspace that poses one central dilemma. 'What lengths must one go through to let go of the past in order to step out of the darkness and accept one's true self?'
"It's a story that targets deep rooted complexities such as how our unconscious deals with repressed sexual identity, the hardships of letting go of our past selves in order to step into self actualization, and the guilt we hold when dealing with loss. For one reason or another, we all have parts of ourselves that we struggle to forgive as well as a part of ourselves we are afraid of exploring or that we think society won't like—so we push those parts down into our unconscious psyches, into the shadows. This is the story of drowning in those fears before releasing your light." – Kimberly Stuckwisch
Big Time Screenings & Solo Performances
Tue. May 17 – London, UK @ Everyman Screen On The Green – On Sale Now
Wed. June 1 – Los Angeles, CA @ GRAMMY Museum ® – On Sale May 12 @ 10:30am PDT
Thu. June 2 – Los Angeles, CA @ Brain Dead Studios – On Sale May 10 @ 11:00am PDT
"Big Time" the title track from the new album is out now. The video was directed by Kimberly Stuckwisch.
Directed By: Kimberly Stuckwisch Produced By: Ian Blair & Briana Goldberg Label: Jagjaguwar  Cinematography By: Justin Hamilton Production Design By: Abel Ryan Choreography By: Monika Felice Smith Co-Choreographer: Hayden Frederick Edited By: Ellis Bahl Costume Design By: Silken Weinberg & Maya Marin  Visual Effects By: Johnny ChewSound Mix By: Ben Tomastik Color By: Kaitlyn Battistelli
Art Direction By:  Norrie Palmer   1st AD: Alec Schiff Steadicam: Jose Espinoza1st AC: Tyler Osika Gaffer: Joel Gill BB Electric: Edwin Wong Key Grip: Remy Dixon BB Grip: Marlo Madlangbayan Hair & Makeup Artist: Leticia Llesmin Sound Mixer: Matt Burgette Assistant Editor: Johnny Chew Post Production Services By: Good Boy Wally Title Design By: Miles Johnson Production Coordinator: Evan Donoho Production Assistants: Chad Carr, Clayton Berg, Matthew Fischer : Matthew FischerAn Invisible Inc Production
Starring: Angel Olsen
Gregory Phillips
Don Yanan
Rey Marz
Nick Aragon
Mary Grace McNally
Hayden Frederick
Emmy Bethel
Rodrigo Amarante
Nona Invie
Korey Dane
Amanda Danko
Canyon Carballosa
Cacia LaCount
Gabe Flowers
Annie Grove
Tajzon James
Robbie Blue
Iz Verdea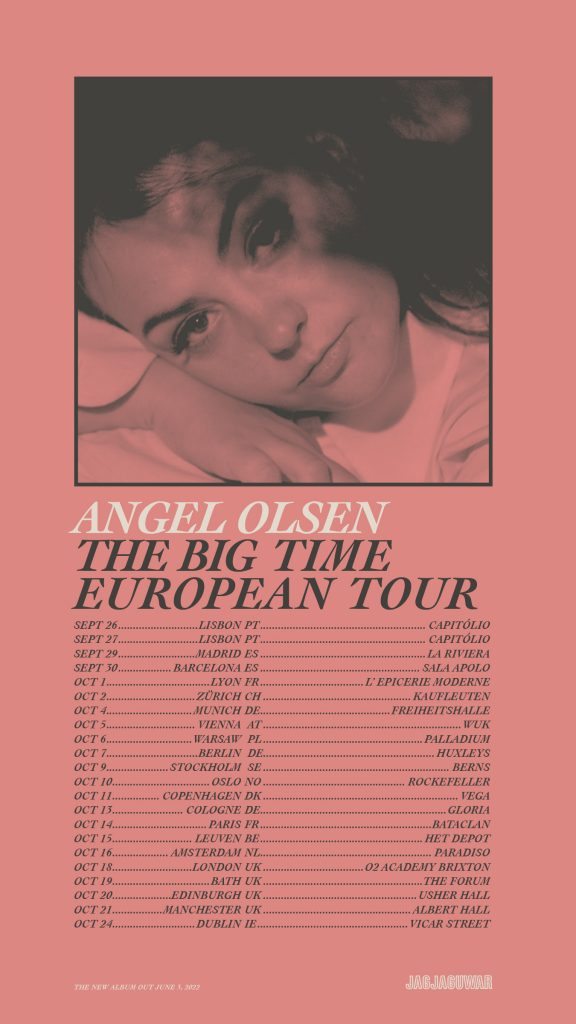 Fan Pre-Sale Begins Wednesday March 30 10:00am GMT – Sign Up On For Codes
General On Sale Starts Friday April 1 at 10:00am GMT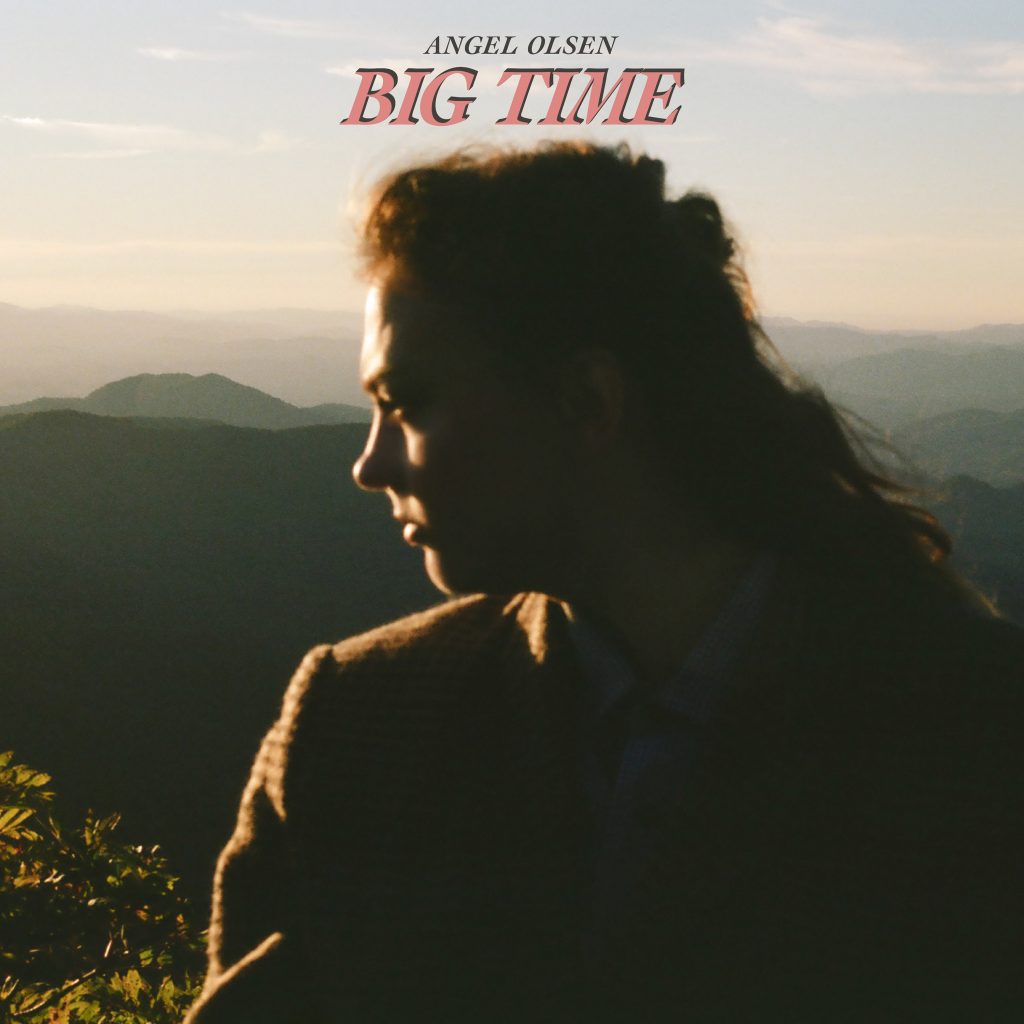 The new album from Angel Olsen – Big Time – is out June 3 2022.
Produced by Jonathan Wilson and Angel Olsen
Pre Order 2 x LP available now on limited clear green vinyl
Instead of the usual pre-order fare, every CD and LP copy of Big Time ordered directly from the artist or label store will include an additional charge to offset the carbon emissions of each piece. Jagjaguwar, in partnership with Terra Lumina Consulting, calculated emissions and costs to achieve a carbon negative product for "cradle-to-grave" use of each physical piece: from the mining of materials, to pressing and shipping, to the electricity consumed by your stereo at home, to end of life disposal. Carbon offsets will be purchased through Native, supporting the Medford Spring Grassland Project.
1. All The Good Times
2. Big Time
3. Dream Thing
4. Ghost On
5. All The Flowers
6. Right Now
7. This Is How It Works
8. Go Home
9. Through The Fires
10. Chasing The Sun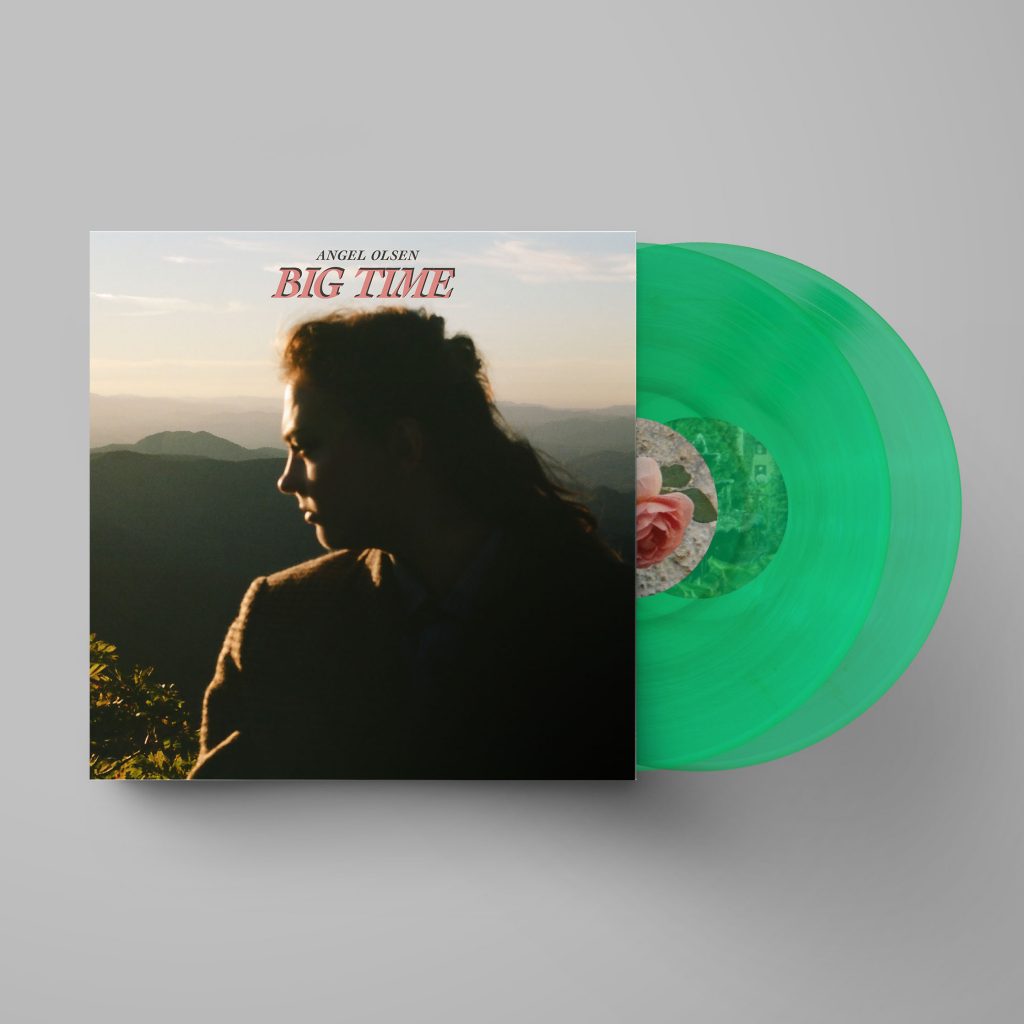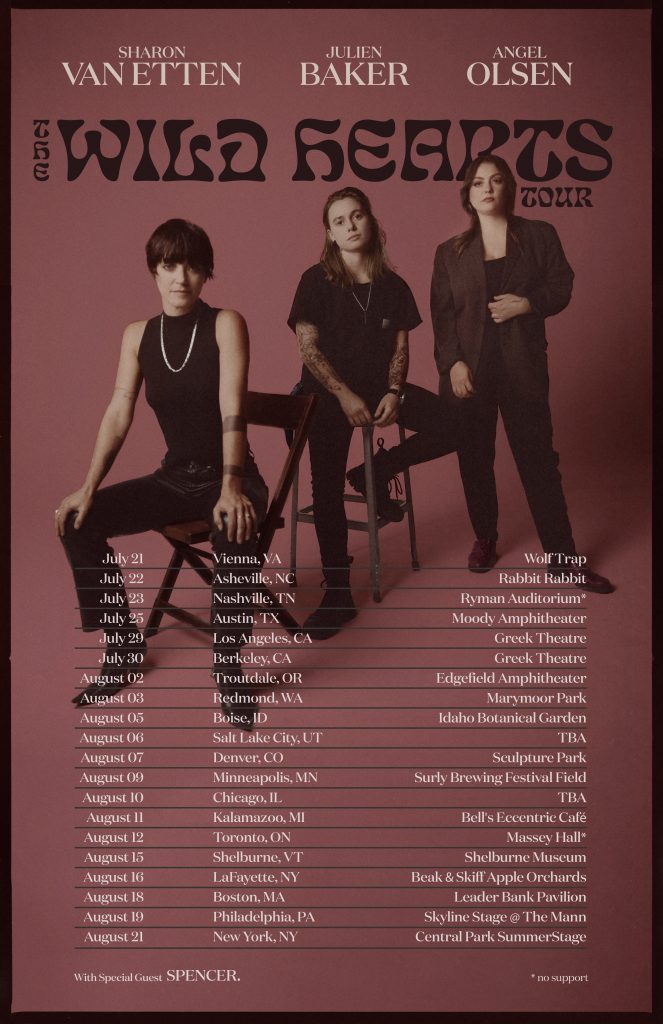 Join Angel, Sharon, and Julien as they head across the country with their bands for three very special individual sets of music on The Wild Hearts Tour. Special guest Spencer. will be opening the evening. These summer time shows will be full nights of music and a true experience from beginning to end. Nearly all of the shows are outdoors with the exceptions of the legendary Massey Hall (Toronto) and Ryman Auditorium (Nashville).  

The Wild Hearts Tour has partnered with PLUS1 so that $1 from every ticket will go to support people rebuilding their lives after incarceration.

Tickets are on sale Friday January 14 at 10am local. For Access to Fan Pre Sale visit: www.thewildheartstour.com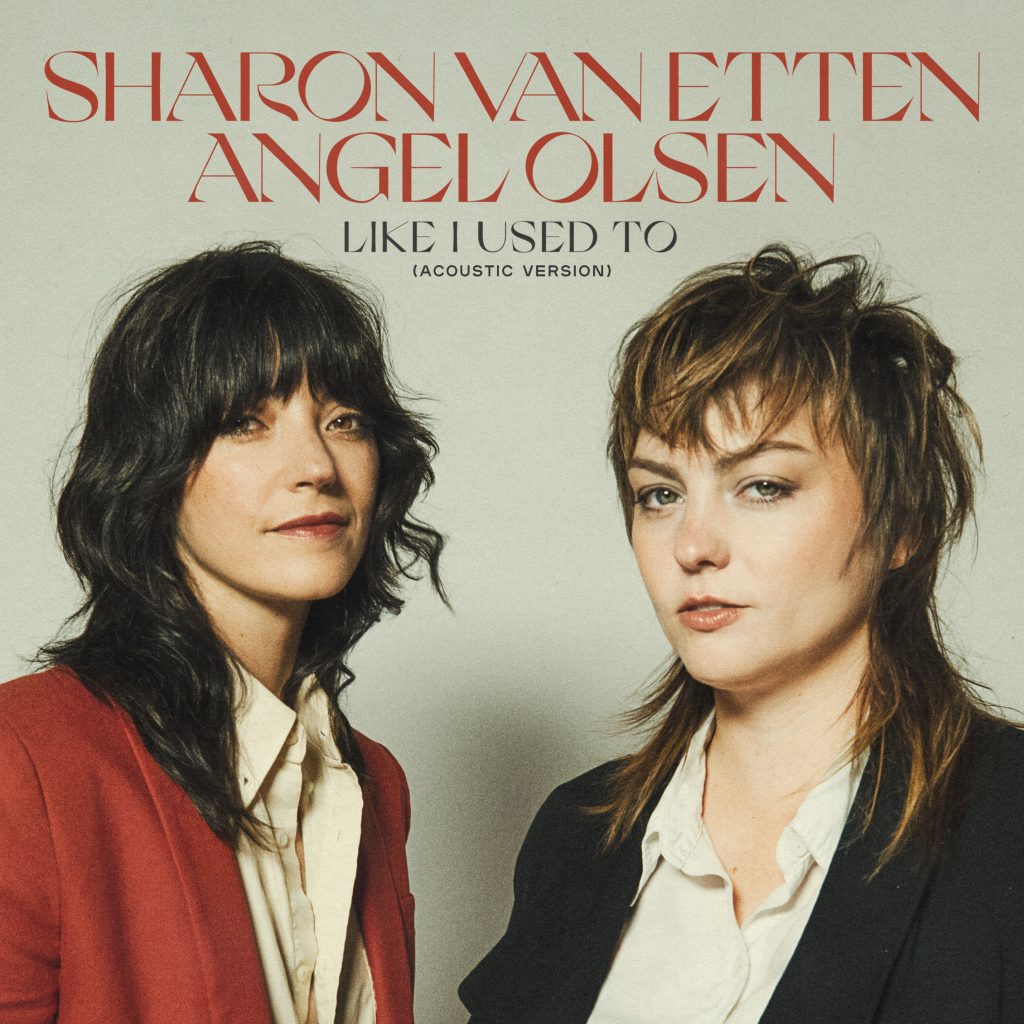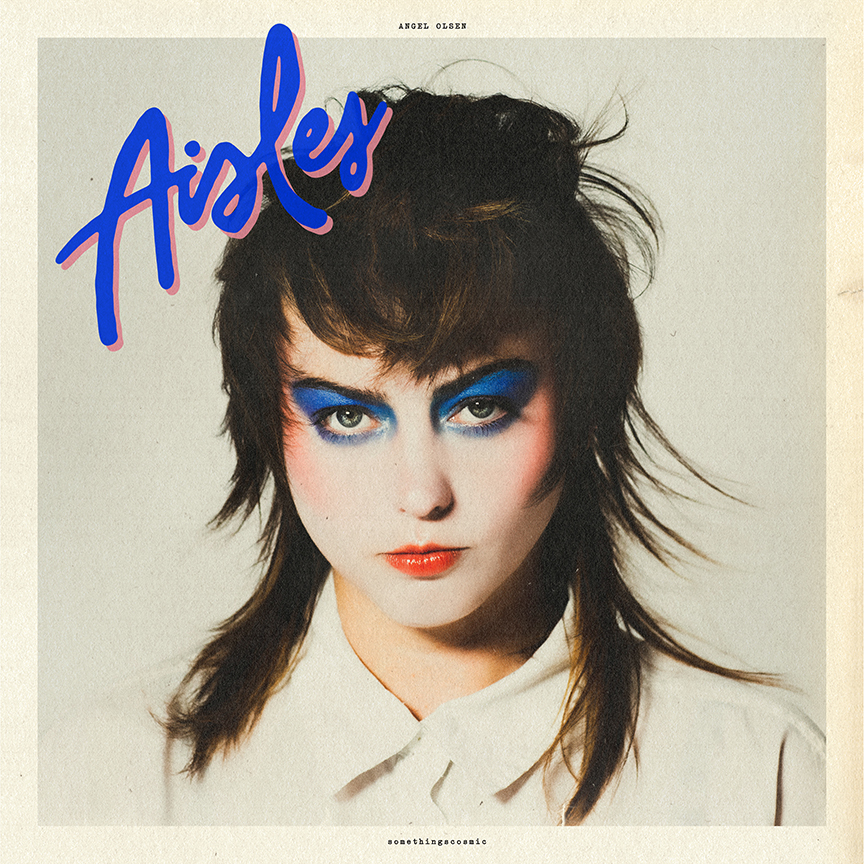 Aisles is an EP of 80's covers from Angel, being released on her new Jagjaguwar imprint – somethingscosmic – on August 20 (digital) and September 24 (physical). Her covers of Laura Branigan's "Gloria" and Men Without Hats "Safety Dance" are out now.
Tracklist:
Gloria (Laura Branigan)
Eyes Without A Face (Billy Idol)
Safety Dance (Men Without Hats)
If You Leave (OMD)
Forever Young (Alphaville)
Pre Order on Blue Frosted Vinyl, Black Vinyl, and Clear Blue Cassette